Glonass satelite systems to ensure safety flights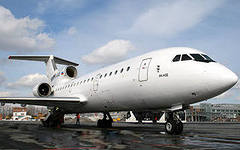 Within the framework of federal task program called GLONASS Support, Development and Application, KVAND Aircraft Interiors' specialists have carried out the scientific research of introducing the ground satelite communications and installing the onboard equipment for director and automatic approaches using signals of satellite constellation GLONASS/GPS to the first YAK-42.

"The aim of the scientific research is the introduction of the competitive new generation home designed aeronautical equipment to Russian civil aviation to ensure safety as well as high performance and advantages over its foreign counterparts," comments out Oleg Ponomarev, CEO of KVAND Aircraft Interiors.
The Yak-42, modified by KVAND's specialists, is the first pilot project aircraft to undertake tests and training of interaction between ground and on-board navigation equipment for precision approach and landing in the airfield.
---
About company
KVAND Aircraft Interiors is a Russian provider of a package solution in production, maintenance and repair of commercial and business jet interiors, and aircraft component production. Since 1998 the company specializes in VIP interior production and takes part in the large-scale projects on equipping high-comfort cabins of modern Russian airliners TU-214, IL-96, AN-148.
One of the company's activities is the installation of avionics equipment and satellite communication systems. KVAND's aircraft and avionics equipment modification workshop also performs installation of such equipment as audio-video systems, emergency radio beacons, satellite communication systems, etc.